In April 2016 Cell:cm Chartered Surveyors established its Building Consultancy department. This followed the recruitment of Steven Knight Bsc (Hons) MRICS and Richard Lilley BSc (Hons). Steven is a Chartered Building Surveyor with extensive commercial property experience and a long established background in the Telecoms Industry. Richard is a graduate Building Surveyor, who studied at Northumbria University.
The increasing need to provide specialist Building Surveying knowledge and services for our clients has arisen from the evolution of the electronic communications sector and the diversifications and consolidations of mobile operators' networks. An increased awareness in health and safety planning, physical site factors and commercial property dilapidations matters requires specific skill sets to continue to provide a quality service to Cell:cm's client base.
The integration of Cell:cm's Building Consultancy has been an extremely effective addition to our core services. As well as telecoms service, the department continues to undertake general practice instructions such as Pre-Acquisition Building Surveys, Measured Surveys, Building Design, Dilapidations and Construction Project Management.
This general practice knowledge and experience, combined with a telecoms specialism is essential when clients are considering aspects such as the life cycle of roof coverings and refurbishment schemes. The presence of telecoms equipment upon a roof will add significant costs to a roof refurbishment project if due and early consideration is not given to the rights of the telecoms operator (both contractual and legislative) and the need to work closely with them to achieve the optimum outcome.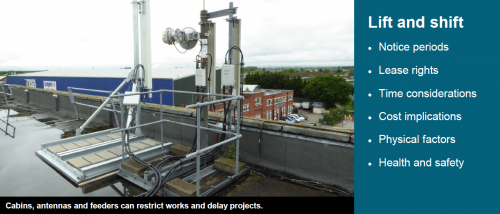 For more information on how Cell:cm's Building Consultancy can assist you, please contact Steven Knight on 07715 027322.