Due to the huge rise in use of the internet and broadband in almost all aspects of daily life today, from communication and networking to buying and selling on an industrial level, many governments, including the UK government, saw that improving digital connectivity and the ability to communicate quickly and efficiently with anyone anywhere in the world could open many different trading doors and this gave birth to the European Digital Agenda that all EU member states voted to implement. Out of this agenda came Building Regulations Approved Document R and it's job is to ensure that all citizens and organisations have access to affordable high speed communication networks. The new Part R – Physical Infrastructure for High Speed Electronic Communications Network, which came into effect of January 1st 2017, places an emphasis on new builds and existing buildings where "major renovation works" take place to include an access point within the building's fabric for the communications network providers as part of the construction works. (See single occupancy drawing below).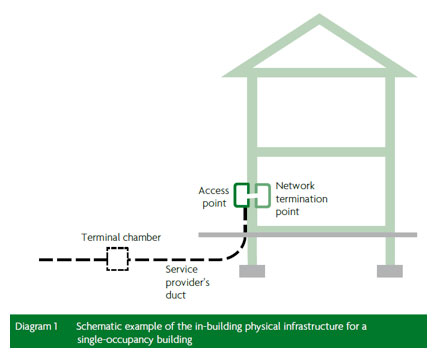 During the consultation of the European Digital Agenda it was noted that a huge part of the cost in providing such a service was due to the inefficiencies and misuse of the existing ductwork, badly sighted towers, poor masts and antennas, poles, manholes, cabinets pipework and conduits. In 2014 the Government implemented an EU Broadband Cost Reduction Directive and for this it ordered a consultation to be carried out by the Department for Media Culture and Sports. These consultation established some revealing facts:
12.4 % of the UKs Gross Domestic Product will be provided by the Internet by 2016. The average across the other (G20) member states was 5.4%.
86% of UK adults accessed the Internet.
Civil engineering works accounted for 80% of the cost of supplying broadband connections.
As a result of the consultation minimum targets have been established and these include a minimum of 30 megabits per second which must be achievable by 100% of households by 2020, this to improve to speeds of over 100 Mbps must be achievable by 50% of households by 2020 and the costs of civil engineering works must be reduced by making construction firms work more closely with service providers and network operators.
An assessment was made on the results of the consultation and concluded that:
Firms operating in a range of sectors must share existing infrastructure where it is possible to do so.
Any company which uses public money to undertake civil engineering works must make every effort to coordinate their work to include the deployment of broadband when reasonably requested to do so.
All firms associated with the provision on infrastructure which could be used to deploy broadband must share information.
New buildings must be constructed with a basic in-built infrastructure to allow access to and provision of high speed broadband.
In buildings where there are multiple floors ducting must be provided to each floor from a common access point to where individual networks are required. (See multi-occupancy drawing below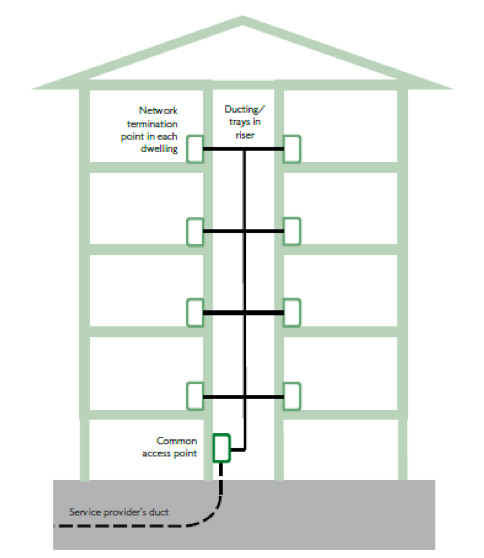 It must be noted that whilst the Approved document enables the infrastructure to be installed into a building's fabric in multi tenanted buildings and it is vital that landlords seek appropriate advice from specialist telecoms surveyors, such as Cell:cm, to help them install with the appropriate protections in place through Landlord favourable wayleaves. This will ensure Landlords have safe guards in place to compel the operators to meet their contractual obligations.
For more information on this please contact Steven Knight who heads up our Building Services team.
Related: Best Modem Router Combo.