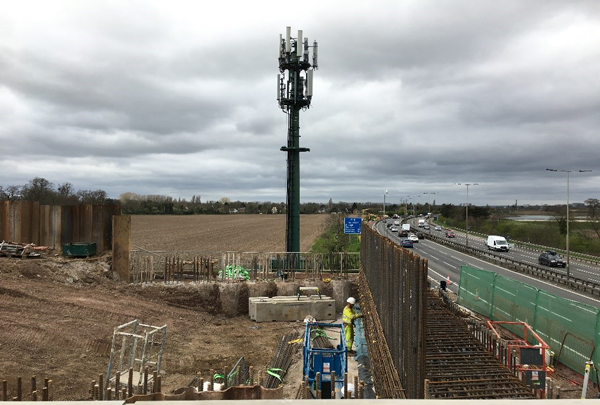 BT considering £1.5bn mast site disposal
In a recent article published by the Sunday Telegraph it has been outlined that the telecoms giant BT is looking towards a £1.5bn sale of their mobile mast portfolio to either help fund broadband upgrades or simply to assist with their cash flow as BT's share price has slowly fallen since its peak in November 2015 and is currently trading at its lowest point in six years.
The broadband upgrades that this funding could be for, are expected to include part of BT's new service BT Plus. BT Plus is the UK's first converged fibre and 4G plan which will provide BT's new and current customers with BT's fastest unlimited fibre connection that includes ultrafast fibre with an average speed of 300Mbps and a guarantee of 100Mbps during busy times of the day.
As a result of the £12.5bn takeover of EE in early 2016, BT acquired EE's mast portfolio, it is believed that these are the masts being sold during this fundraising exercise. Although the discussions with regards to this sale are only just forming, it is becoming apparent that this sale could be used to fund the broadband advancements as well as help reconstruct the confidence held by the company's shareholders.
As one of BT's largest shareholders Deutsche Telecom, with a 12% stake after BT bought EE from Deutsche Telekom and Orange in early 2016, the wisdom of the mast sale by BT is being doubted resulting in Deutsche Telekom pondering the sale of a 49% stake in their mast portfolio worth £4.4bn.
Nevertheless, although the sale by BT is receiving criticism, it is also receiving a lot of interest from investors wishing to acquire the mast portfolio comprised of around 7,000 masts as an acquisition of this size would result in a rival to the leading large-scale independent mobile infrastructure provider Arqiva. One of the larger independent infrastructure companies looking into the sale is Wireless Infrastructure Group with encouragement from the private equity giant 3i.
With the recent news of BT's change of leadership as their chief executive Gavin Patterson is to step down once his successor has been chosen later this year, it is interesting to see how this will affect the sale. Mr Patterson was involved in the £12.5bn EE takeover from Deutsche Telekom and Orange, which is where it is believed the majority of the masts being sold have come from.
For more information and to read the full article visit https://www.telegraph.co.uk/business/2018/05/19/bt-mulls-15bn-mast-sale-fund-broadband-upgrades/ .
---
For more information on this matter or if Cell:cm may assist in relation to your site, please contact us.
---